A RC (radio-controlled) model is a model that is steerable with the use of radio control. The most common types of RC model we know, are RC helicopters, RC planes, RC ground vehicles (RC car, RC truck) and RC boats, there are even RC submarines and RC scale railway locomotives which are not so commonly seen.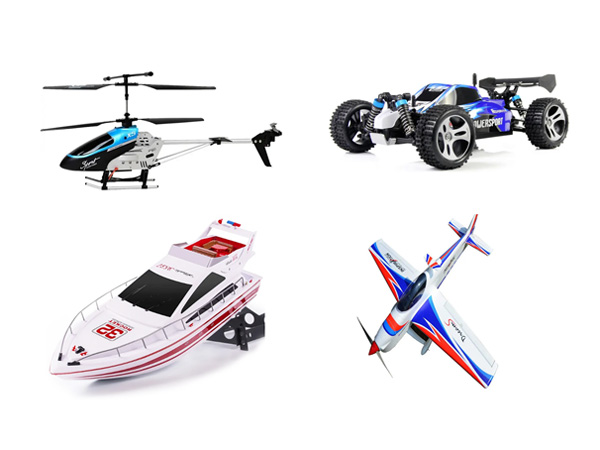 RC bearings are indispensable components of the main transmission unit in the RC models, they are widely used on the server, wheels and/ or micro motors of the RC models. And the quality of RC bearing decides the overall quality, service life and experience of the remote-control model.
FITRUN BEARING is a professional RC bearings manufacturer with 20 years design and manufacturing experience. We offer a wide range of standard and ceramic hybrid RC bearings for RC models. Our high-quality RC bearings can guarantee the smooth and stable working of the RC models.
Various ABEC tolerance, radial plays, retainer styles and shield/seal configurations are available in FITRUN BEARING. Here in the following table are some of the bearings for RC models, please don't hesitate to contact us if you didn't find the bearing you are looking for.
RC Bearings Popular Sizes
| | | | |
| --- | --- | --- | --- |
| Part No. | Bore Dia. | Outer Dia. | Width |
| MR84ZZ | 4 mm | 8 mm | 3 mm |
| MR85ZZ | 5 mm | 8 mm | 2.5 mm |
| MR95ZZ | 5 mm | 9 mm | 3 mm |
| MR105ZZ | 5 mm | 10 mm | 4 mm |
| MR115ZZ | 5 mm | 11 mm | 4 mm |
| MR126ZZ | 6 mm | 12 mm | 4 mm |
| MR686ZZ | 6 mm | 13 mm | 5 mm |
| MR128ZZ | 8 mm | 12 mm | 3.5 mm |
| MR148ZZ | 8 mm | 14 mm | 4 mm |
| 688ZZ | 8 mm | 16 mm | 5 mm |
| 6700ZZ | 10 mm | 15 mm | 4 mm |
| 6701ZZ | 12 mm | 18 mm | 4 mm |
| 6800ZZ | 10 mm | 19 mm | 5 mm |
| 6801ZZ | 12 mm | 21 mm | 5 mm |
| R144ZZ | 1/8″ | 1/4″ | 7/64″ |
| R2-5ZZ | 1/8″ | 5/16″ | 9/64″ |
| R155ZZ | 5/32″ | 5/16″ | 1/8″ |
| R156ZZ | 3/16″ | 5/16″ | 1/8″ |
| R2ZZ | 1/8″ | 3/8″ | 5/32″ |
| R166ZZ | 3/16″ | 3/8″ | 5/32″ |
| R168ZZ | 1/4″ | 3/8″ | 1/8″ |
| R188ZZ | 1/4″ | 1/2″ | 3/16″ |
| R1038ZZ | 3/8″ | 5/8″ | 5/32″ |
| R1212ZZ | 1/2″ | 3/4″ | 5/32″ |
| FR2-5ZZ | 1/8″ | 5/16″ | 9/64″ |
| FR156ZZ | 3/16″ | 5/16″ | 1/8″ |
| FR168ZZ | 1/4″ | 3/8″ | 1/8″ |
| FR188ZZ | 1/4″ | 1/2″ | 3/16″ |
RC Bearings Popular Sizes