FITRUN BEARING has been manufacturing the best skateboard bearings for many years. With our flexible customized services and relatively low prices, we have built long term business relationship with many worldwide customers. The customized services include printing customer's logo on the bearing shields, making customized packaging and non-standard size skateboard bearings. You can learn more about our skateboard bearings and services through the following information.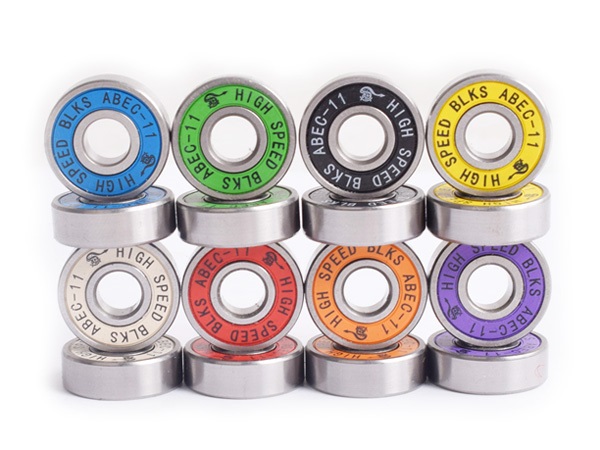 Features of Skateboard Bearings
Skateboard Bearing Size
With an inner bore diameter of 8mm and an outer diameter of 22mm and a width of 7mm, the 608ZZ ball bearing is the most popular and widely used bearing in skateboard industry. There are also other sizes of bearings being used for the skateboard, including 6900zz extra thin section bearing (10x22x6mm), 627ZZ miniature ball bearing (7x22x7mm) and 688ZZ miniature bearings (8x16x5mm).
Skateboard Bearing Level
Levels of our skateboard bearings include ABEC1, ABEC3, ABEC5, ABEC7 and ABEC9. ABEC5 and ABEC7 are the most popular tolerance levels for skateboard bearings, thanks to their relatively low prices but very high quality.
Shield / Seals
There are metal shields and rubber seals for the skateboard bearings. They are available in many colors, and can be printed with customer's logo on it.
Cage / Retainer
We have two kinds of cages for choice on the skateboard bearing, they are stainless-steel retainer and nylon retainer.
Materials of Ball and Ring
Chrome steel is the most common material for skateboard bearing, other material such as black coating chrome steel, golden coating chrome steel, stainless steel and ceramic are also available for your choices.
Skateboard Bearing Packaging
Various packagings (plastic tube, paper box, metal box, plastic box) are available for skateboard bearings in FITRUN BEARING. We also can customize the packaging for you, like, with your logo printed on the package etc. Please send us your design and requirement to get a quick and free quotation today.