Bearing is an important component in mechanical equipment. its application range is very wide and the market demand is strong. You can get to know more about bearing on wikipedia (open in new tab). The competition in bearing industry is heavily fierce. There are over 10 thousand of bearing manufacturers in China, from bearing factory with several workers to bearing company group with over 20,000 employees. But China's share of the world bearing market is very small compared to her huge amount of bearing manufacturers and the largest bearing market in the world. Statistics show that the world's top 10 bearing companies account for more than 70% of the world's bearing market share, while China only accounts for 20%.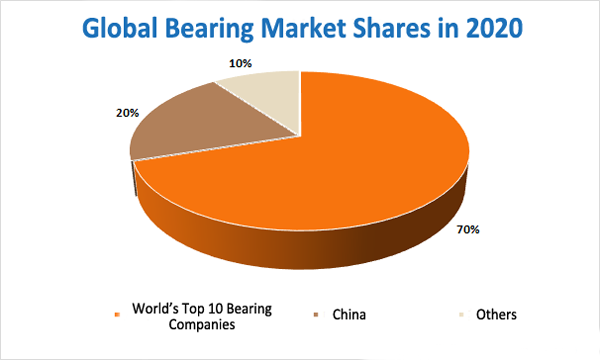 However, Chinese bearings are favored by many buyers in the international market because of their low prices and constantly improving quality. Some of the largest bearing manufacturers are constantly improving the bearing grade and transit from "big" to "strong" strategically. Such as the C&U and ZWZ (Wafangdian Bearing) have occupied a good portion of the market share, and are becoming famous brands globally. They are the top brands of China bearing industry. Together with other 8 brands, they are the top 10 bearing manufacturers in China.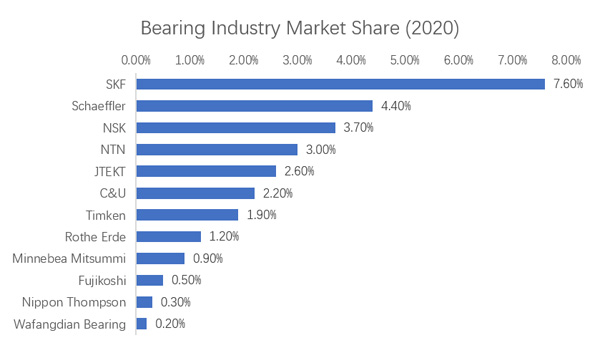 1. Wafangdian Bearing Group Co., Ltd. (ZWZ)
Wafangdian Bearing Group Co., Ltd. was founded in 1938, and is currently the largest bearing manufacturer in China. The leading products of ZWZ Group are bearings for major technical equipment, such as rail transit bearings, automotive vehicle bearings, military equipment bearings, etc. The domestic market share of leading products is over 20%.
The company's products are widely used in metallurgy, mining, building materials, hydropower, high-speed railway and other large machinery industries.
2. Renben Group Co., Ltd. (C & U)
Founded in 1991, Renben Group is one of the largest bearing manufacturers in China. It has 7 bearing production bases in Wenzhou, Hangzhou, Wuxi, Shanghai, Nanchong, Wuhu and Huangshi respectively. These production bases are formed through investment, mergers and acquisitions, and technological reform. It has 65 finished bearing factories, producing various types of bearings with an inner bore diameter of 1.0 mm to an outer diameter of 4000 mm. They manufacture more than 30,000 types of bearings, and produced over 1.2 billion sets of bearings in 2022.
This company's leading products for the manufacturing industry are high-precision and low-noise motor bearings (Z3, Z3 group products). These bearings are mainly supplied to well-known domestic and foreign manufacturers of electric motors, automobile and motorcycle. Their bearings are used in air conditioners, washing machines, vacuum cleaners and other motors. Their clients include Midea, Haier, Little Swan, Panasonic, Samsung, Sharp, Whirlpool, Fotile, LG and other companies. The developed high-end motorcycle crankshaft bearings have been successfully matched with well-known brands such as Dachangjiang, Jincheng Suzuki and Chongqing Zongshen, etc.
Renben has established more than 70 bearing marketing companies and 130 bearing sales offices and bearing specialty stores in various central cities across China, forming a national sales chain network of bearing products. They also have trading companies in the United States, Japan and Germany.
3. Luoyang Bearing Corp (LYC)
Luoyang LYC Bearing Co., Ltd. was founded in 1954 and is one of the 156 key projects during China's "First Five-Year Plan" period. LYC is certified for ISO9001, ISO14001, TS16949, CRCC, OHSAS18001, American ARR, French AS9100C and German GL by international authority organizations. It is the largest one amount the top 10 bearing manufacturers in China.
Their bearing series cover 9 primary types, more than 20,000 kinds. The bearing size ranges from 10 mm inner bore diameter to 13,500 mm outer diameter. They have core technologies for rail transit vehicle bearings and special thin-walled bearings for major equipment. Their products are widely used in wind power generation, rail transit, automobiles and motorcycles, mining and metallurgy, construction machinery, machine tool motors, industrial gearboxes, medical equipment, port machinery and ships, etc.
4. Harbin Bearing Group Co. Ltd. (HRB)
Harbin Bearing Group Co. Ltd. was restructured in the year 2007, separating the main and auxiliary bearings. It is among the three main bearing production places in China. They own more than 5,000 production equipment today and can successfully produce up to 80 million sets of bearings annually. The annual revenue is over 2 billion Chinese Yuan. Their Bearings are widely used in machine tools, motors, locomotives, automobiles, agricultural machinery, printing, food processing machine, medical equipment, chemical machinery, electrical appliances and other industries.
5. Luoyang Bearing Science and Technology Co., Ltd. (ZYS)
Founded in 1958, ZYS was formerly known as Luoyang Bearing Research Institute. It was a state-level comprehensive research institute in China's bearing industry. ZYS became a technology enterprise in 1999.
The company has a scientific research institution (National Enterprise Technology Center), three production bases with advanced bearing manufacturing equipment and testing instruments. They have strong capability in the manufacturing and testing of high-precision, high-reliability bearings and related components. They have accumulated comprehensive technical advantages in bearing basic theory, design, materials, testing, lubrication and bearing standards.
This company manufactures various types of high-end bearings and components with an inner diameter as small as of 0.6 mm to an outer diameter of 6.8 meters. The bearings are widely used in aerospace, naval weapons, machine tools, wind power, mining and metallurgy, petrochemicals, medical equipment, automobiles and rail transit, construction machinery and other applications.
6. Zhejiang Tianma Bearing Group Limited Company (TMB)
Zhejiang Tianma Bearing Group Co., Ltd was established in 1987 with a registered capital of 2.07 billion Chinese Yuan (US$ 0.31 billion). It is one of the biggest bearing manufacturers in China with more than 30 years bearing manufacturing experience. TMB group annual revenue reaches to 3.2 billion CNY (0.5 billion US dollars).
This company manufactures more than 8000 models of bearings in 10 primary categories. The bearing types include cylindrical roller bearings (single and double row, four row), deep groove ball bearings, tapered roller bearings, aligning roller and aligning ball bearings, angular contact ball bearings (single and double row), thrust roller and thrust ball bearings, non-standard bearings.
Their bearings are widely used in the field of railway, aviation, ship, automobile, machine tool, motor, mining and metallurgy, wind power generation, agricultural machinery, heavy machinery, construction machinery, port machinery and many other industries.
7. Xibei Bearing Co., Ltd. (NXZ)
NXZ was formerly named Xibei Bearing Factory which was founded in 1965, and then restructured into Xibei Bearing Co., Ltd. in 1996. It is the 1st bearing company in China A-shares stock market.
This company is mainly engaged in the manufacturing of various types of rolling bearings. Their bearings are widely used in the industry of petroleum machinery, metallurgy, railway, mining, construction engineering, heavy-duty vehicles, motors and agricultural machinery, etc.
The company is the largest R&D and production base for petroleum machinery bearings in China. They manufacture more than 5,000 kinds of rolling bearings of various types with an outer diameter of 40 mm to 3,500 mm in accordance with international standards.
8. Qianchao Bearing Wanxiang Group Corporation (QC Bearing)
QC Bearing was founded in 1969, and is engaged in the manufacturing of universal joints bearing, transmission shafts, brakes, fuel burners, exhaust systems, and other bearing products. They are famous for their automotive bearings. They are long term supplier of famous car manufacturers, such as Mercedes-Benz, BMW, Toyota, Volkswagen, GM, Ford, Honda, Mitsubishi-Nissan-Renault, FAW, SAIC, Dongfeng, GAC, Changan, Great Wall, Geely, Foton, Hino and so on.
9. Fujian Longxi Bearing Group Corporation Limited (LS)
Longxi Bearing was founded in 1958, and now is a listed company in China A-shares stock market. It is engaged in the manufacture of spherical plain bearings, tapered roller bearings, gears, gearboxes and auto parts.
LS Bearing is a high-tech enterprise of the National Torch Program and a national innovative (pilot) enterprise. The production capacity is 8 million sets of automotive tapered roller bearings and AG bearings, 2 million sets of gears, 10,000 sets of gearboxes, 150,000 sets of automotive power steering gears, and 20 million sets of shaft sleeves.
10. Xiangyang Automobile Bearing Co., Ltd. (ZXY)
Xiangyang Automobile Bearing Co., Ltd. was founded in the year 1968 and was listed on the Shenzhen Stock Exchange market in 1996. This company houses an engineering technology center that specializes in the creation and implementation of new automotive bearing products.
Apart from automotive bearings, the company also creates agricultural machinery, appliances, and fans. The technology research used is at the top position when placed in the domestic bearing industry for automotive. The company uses several technologies including reinforced tapered roller bearings, full complement cylindrical roller bearings, automotive air conditioning compressor bearings, and clutch bearing simulation testers that have international patents.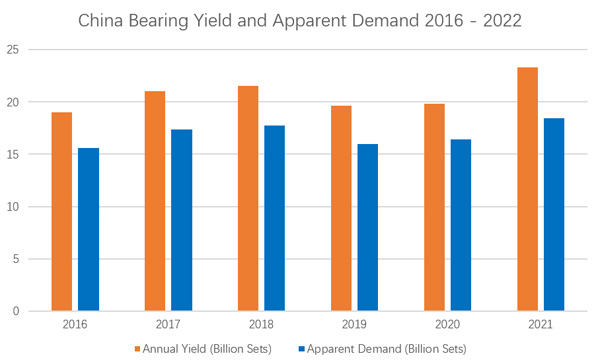 The China bearing industry has garnered immense production-based technology and experience since 1938. Bearing manufacturers in China continue to develop and create products that are extensively used in many sectors. This article provides information about the top 10 bearing manufacturers in China, giving more insight into the industry and appreciating the growth that China has made in this specific sector.
These top 10 bearing manufacturers mainly manufacture small to large size bearings for large business corporates. If you are looking for professional miniature ball bearing manufacturers in China, Fitrun Bearing is a best choice for you. Fitrun Bearing supplies miniature and small ball bearings with inner bore diameter ranging from 1 to 15 mm, small quantity customization is accepted.